Welcome to Adventure Camp at Home!
We invite participants to join us daily on Monday-Friday for free virtual events as we laugh, create, learn and connect.
All virtual events will take place using Zoom's audio and video-sharing platform. We will explore a new theme together through games, arts and crafts, music, movies, and even virtual field trips every week.
If you would like to receive weekly updates and be added to the Adventure Camp at Home weekly email list, please email us at info@easterseals.ab.ca.
Once registered, you will receive the link to join our daily programs. Re-registration will be required every three months. A link will be sent to you to complete our re-registration questionnaire.
Come as often as you would like; we can't wait to see you!
Visit our new Virtual Programs blog and read all about the adventures participants have together!
---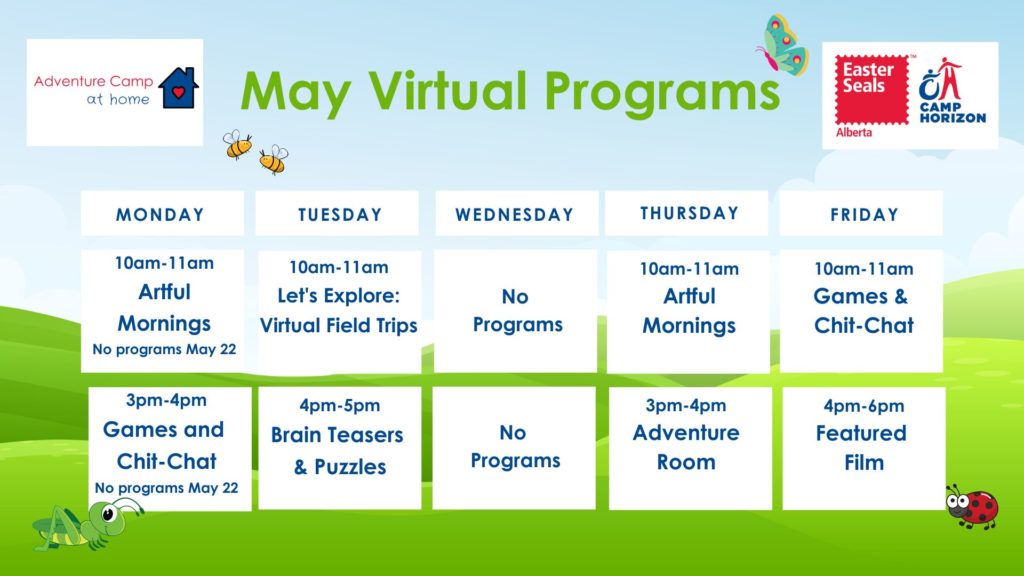 Virtual Program Descriptions
Artful Mornings
Mondays & Thursdays 10-11 AM MST
Ease into your day by joining us for a variety of art activities, explore your artistic side or just come and hang out – the choice is yours!
Games & Chit-Chat
Mondays 3-4 PM MST & Fridays 10-11 AM MST
Join this socially oriented program to play, enjoy a variety of games, and have some good old fashion fun! Everyone is welcome to join, whether you're an active participant or an observer – whatever works best for you.
Featured Films
Fridays 4-6 PM MST
Grab some popcorn and join us to watch a different movie every week!
Let's Explore: Virtual Fieldtrips
Tuesdays 10-11 AM MST
Tag along as we explore the earth and its many wonders! Each week we will explore different countries, landmarks, and even festivals! Join us to learn about the world and everything it has to offer!
Brain Teasers & Puzzles
Tuesdays 4-5 PM MST
Grab your thinking cap and join us for some brain-tingling activities. We will complete a variety of puzzles and engaging activities. Everyone is welcome to join, whether you're an active participant or an observer – whatever works best for you.
Craft Time
Thursdays 3-4 PM MST
Time to get crafty! Join us for weekly arts and crafts events. Be sure to check the live calendar to view what activities are planned and the supplies you'll need to participate.
Adventure Rooms
Fridays 10-11 AM MST
Join us as we take part in a variety of exciting escape rooms! We will complete puzzles and challenges as a group while also having loads of fun!
Keep up to date with our live calendar of upcoming sessions!
---